Scenic views from atop Malibu's mountains, this wedding has boho beach in the bag!
Come rain or come shine, and rain it did. These triathletes didn't let a little water get in the way of their laid back Malibu beach wedding. In fact, in the grooms' culture, rain is a good luck on your wedding day. As luck would have it, the rain stopped just in time for dinner! Guests dined alfresco with an ocean view as their backdrop. Beneath a canopy of bistro lights a whole lot of love was shared with the happy couple.
Salad
Arugula Corn Salad
avocado, cherry tomato, goat cheese, basil, ramp vinaigrette
Arugula Peach Salad fig, radicchio, blue cheese, hazelnut vinaigrette
fig, arugula, radicchio, blue cheese, hazelnut vinaigrette
Protein
Salt Crusted Hanger Steak
pistou
Overnight Brined Salmon
dill lemon caper crème fraiche
Hors D'oeuvres
Grilled Cheese
cherry tomato confit, olive bread, basil
Fried Squash Blossom
herb ricotta, fleur de sel smoked pepper tomato marinara
Grilled Watermelon Skewers
balsamico, mint, mozzarella
Scallop Ceviche
finger lime, salmon roe, cilantro, housemade tostada
Sides
Baked Ricotta
bloomsdale spinach, caramelized red onion
Roasted Fingerling Potatoes
romesco
Dessert
Assorted mini desserts and pies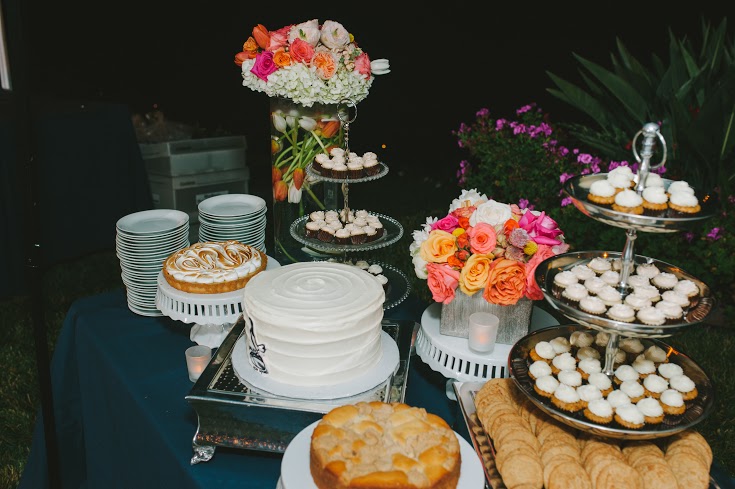 catering-entree
Meat dish catered by Taste of Pace for Malibu wedding.